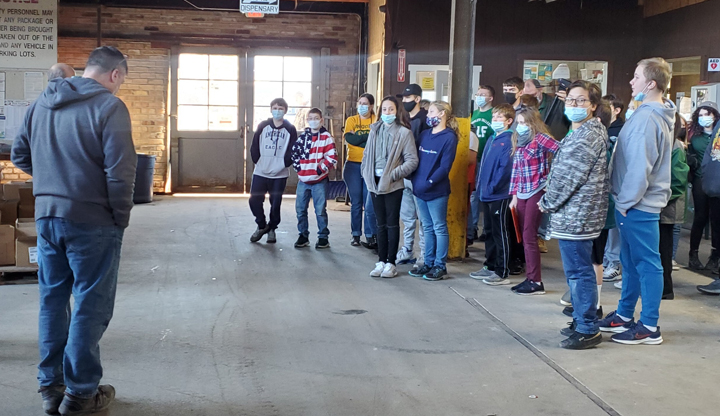 WHEELING, March 30, 2022 – Explore the New Manufacturing is pleased to release the Brooke Middle School's video submission in the Northern Region What's So Cool About Manufacturing? Student Video Contest. The video showcases the dinnerware produced by the Fiesta Tableware Company, located in Newell, West Virginia.
The students are competing for three regional awards: Outstanding Creativity, Best Manufacturing Message, and the Viewer's Choice. Visit https://www.exploremfgwv.com/students/student-video-contest.html to view the Brooke Middle School video.
Participating Brooke students: Stone Baldauf, Ashton Blair, Molly Diaz, Emma Dulaney, Faith Farrell, Shane Hernandez, Elijah Lanigan, Cara Minger, Allison Parks, Cheyenne Truex, and Brady Yost.
"Introducing students to manufacturing is a thrill for us," commented Katie Bricker, Fiesta Tableware's Director of Marketing. "We love our work, and we know that these kids can find fulfilling careers in manufacturing." Employees involved in the contest include Ken McElhaney, VP of Operations; Jim Shaner, Ceramic Engineer;
Chuck Spragg, Supervisor; and Katie Bricker, Director of Marketing.
"Today's middle school students will be tomorrow's workforce in manufacturing in West Virginia," said Program Director Monica Cross, who oversees the Explore the New Manufacturing Program on behalf of the West Virginia Manufacturing Association Educational Fund's efforts to create student awareness and excitement about careers in manufacturing and the training opportunities for these positions in their local areas. "This generation has a real opportunity to have lifelong careers in modern manufacturing environments that will use skills in technology, problem-solving, innovation and communication."