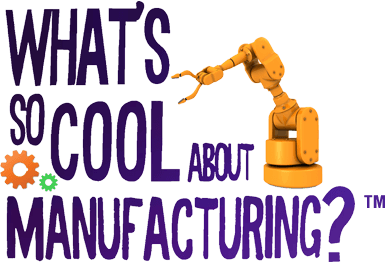 What's So Cool About Manufacturing? Student Video Contest for 7th & 8th-grade middle school students has been a favorite since its introduction in West Virginia.
Video Contest Facts:
Teams of 8-15 students participate in this program which happens over six months.
Teams are partnered with a local manufacturer to create a 3-minute video designed to provide a cool snapshot of the manufacturing process and the employees who make it happen.
Student ideas take shape as they work as directors, actors, and videographers in creating their team video.
Find out which team earns the most votes in the Viewers' Choice Awards.
Prizes awarded for Best Manufacturing Message and Most Outstanding Creativity
Regional award ceremonies bring together teams, their families, and manufacturers to celebrate everyone's success.
To participate in the next What's So Cool About Manufacturing? Student Video Contest, send an email to This email address is being protected from spambots. You need JavaScript enabled to view it.. A limited number of slots are available.
West Virginia What's So Cool About Manufacturing?
2020 Student Video Contest
In this age of social distancing, the Explore team is busy developing a virtual ceremony to honor the hard work and creativity that our participants have put into to creating a group of amazing videos. Students, 7th and 8th graders, produced mini documentaries on a local manufacturer. They were responsible for interviewing employees and capturing video footage to create a video that tells the story of manufacturing.