Help create the next generation of workers
Explore the New Manufacturing is committed to increasing the number of West Virginia students completing career paths that support the state's manufacturing industry.
Manufacturer Benefits:
Interact with middle and high school students and educators in the areas of career exploration and STEM education.
Help provide an understanding of skillset needs and the educational resources necessary to prepare students for the job market.
Participate in a regional team to build continuum workforce overlays by defining the top skills needed for entry-level positions.
Manufacturer Participation:
LAB HOSTS present a hands-on activity designed to provide a cool snapshot of the manufacturing process and necessary basic skills.
TOUR GUIDES, both in-person and virtual, present an informative look at what happens inside their facilities, including interviews with a cross-segment of employees.
COMPETITION MENTORS help students improve soft and hard skills, which are critical components to a successful employee.
Manufacturing Workforce Continuum
Our goal is to develop strategic partnerships between educators and manufacturers which will create an educational continuum for middle and high school students. The Manufacturing Workforce Continuum, designed to support student career exploration, works to maximize an understanding of the skills training opportunities that lead to secure well-paying manufacturing jobs. Regional teams will take an in-depth look to provide greater detail about manufacturer skillset needs and the educational resources necessary to prepare students for the industrial job market. The eight Explore Program areas serve as the footprint for the regional teams.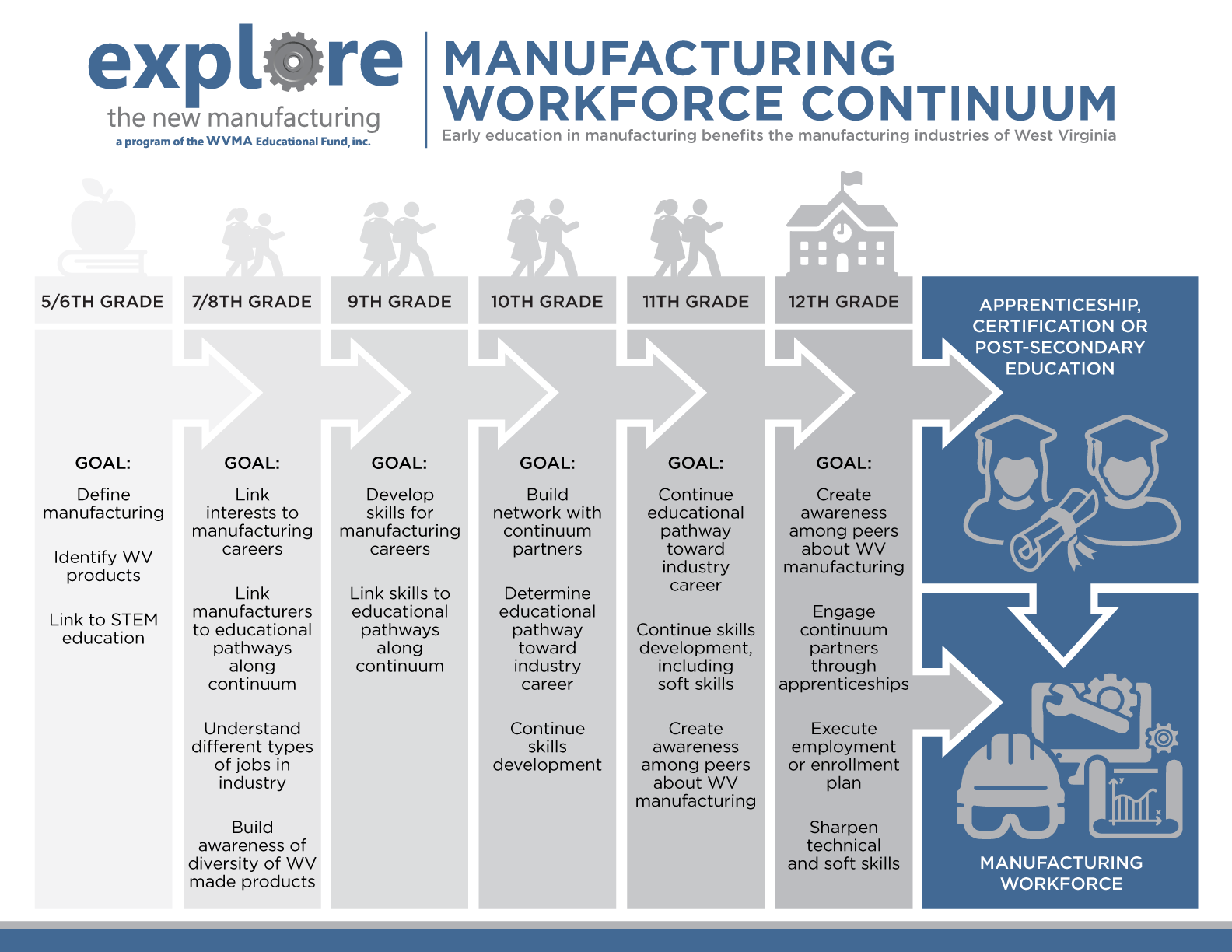 Hey, are you interested in participating in Explore the New Manufacturing Programs?
If you're a West Virginia educator or a manufacturer with operations in the mountain state, we would love to hear from you.