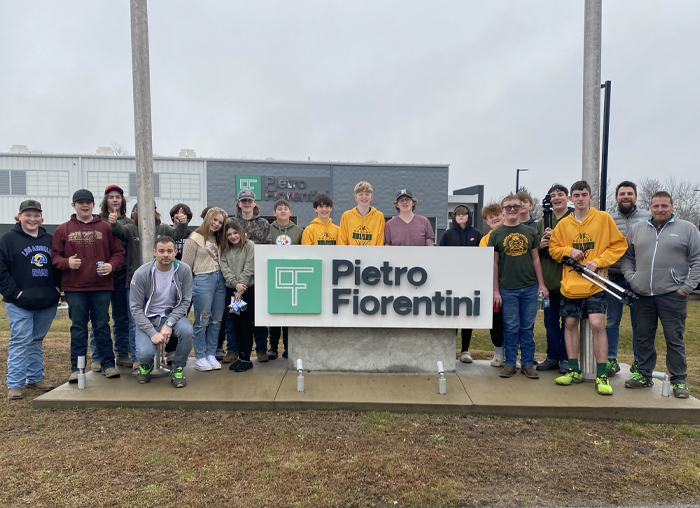 Explore the New Manufacturing is pleased to release Brooke Middle School's video submission in the Northern region of the Explore Student Video Contest. The video showcases the inner workings of Pietro Fiorentini, an Italian company based in Weirton.
The students are competing for three regional awards: Outstanding Creativity, Best Manufacturing Message, and the Viewer's Choice. Visit https://www.exploremfgwv.com/2023-northern-region-video-contest to view the Brooke Middle School video and cast your vote in the Viewer's Choice Contest. Voting closes on March 26th at midnight.
The Brooke Middle School team: Ashton Blair, Carl Digiacinto, Pierce Ferrell, Madalynn Hruschak, Jacob Jonson, Remington Parr, Cameron Miller, Crosby Morris, Draven Utt, and Colin Winters.
The team was supported by faculty advisors Brian Rea and Jami Packer.
"Pietro Fiorentini is very passionate about investing in the community and the future workforce," said Tara Siranovic, a human resources generalist at Pietro. "Participating in this video allowed us to share what's cool about manufacturing and how we integrate American and Italian cultures in order to provide our customers with a superior product."
Pietro Fiorentini support team: Adam Ambrose, Collin Ebert, David McCartney, Mattia Pizzocaro, Tara Siranovic, and Melissa Skaggs.
"Today's middle school students will be tomorrow's workforce in manufacturing in West Virginia," said Program Director Monica Cross, who oversees the Explore the New Manufacturing program on behalf of the West Virginia Manufacturers Association Educational Fund's efforts to create student awareness and excitement about careers in manufacturing and the training opportunities for these positions in their local areas. "We are excited to share Brooke Middle School's video with you. The team did an excellent job and their results illustrate the use of creativity, problem-solving, communication, and teamwork."