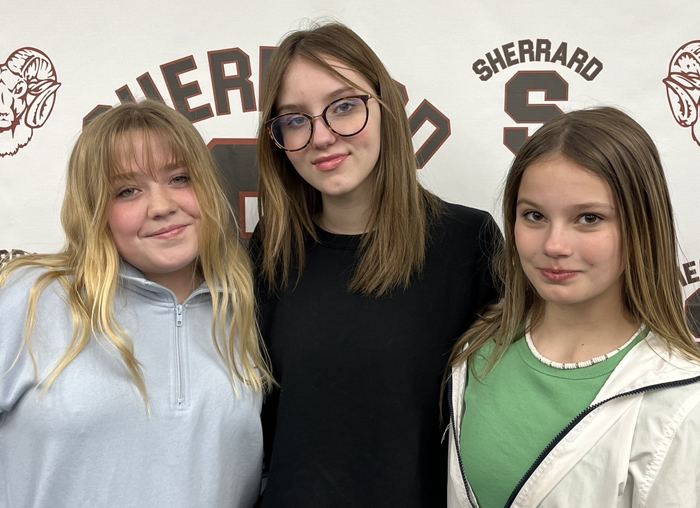 Explore the New Manufacturing is pleased to release Sherrard Middle School's video submission in the Northern region of the Explore Student Video Contest. The video showcases what happens inside Edgington Studio, a cut-and-sew apparel manufacturer with small batch production processes, located in Wheeling, West Virginia.
The students are competing for three regional awards: Outstanding Creativity, Best Manufacturing Message, and the Viewer's Choice. Visit https://www.exploremfgwv.com/2023-northern-region-video-contest to view the Sherrard Middle School video and cast your vote in the Viewer's Choice Contest. Voting closes on March 26th at midnight.
The Sherrard Middle School team: Ella Anderson, Macy Baker, and Jaylynn Robertson. The team is supported by Bricie Brannan, faculty advisor.
"I was eager to have the students over to Edgington Studio and work with them as part of the Explore program because I was about their age when I used a sewing machine for the very first time, and that moment really influenced the type of work I wanted to do," said Emily Rouse, owner of Edgington Studio. "I did not have a home economics class to gain exposure to sewing, and as it's being phased out more and more now, I think it's important to find ways to show kids that apparel manufacturing is not only a career path that they might want to get into, but it's something they can pursue right here in West Virginia. It was so fulfilling to see them having a blast learning how to make a pattern, cut, and sew as part of a small assembly line!"
"Today's middle school students will be tomorrow's workforce in manufacturing in West Virginia," said Program Director Monica Cross, who oversees the Explore the New Manufacturing program on behalf of the West Virginia Manufacturers Association Educational Fund's efforts to create student awareness and excitement about careers in manufacturing and the training opportunities for these positions in their local areas. "We are excited to share Sherrard Middle School's video with you. The team did an excellent job, and their results illustrate the use of creativity, problem-solving, communication, and teamwork."