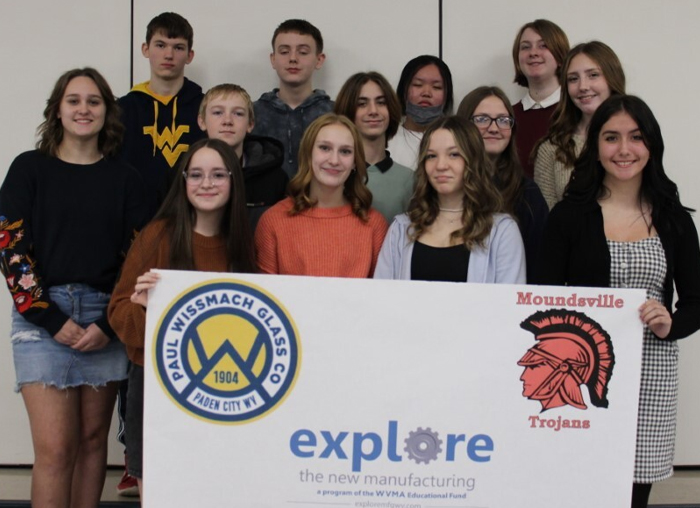 Explore the New Manufacturing is pleased to release Moundsville Middle School's video submission in the Northern region of the Explore Student Video Contest. The video showcases the colorful manufacturing process of Paul Wissmach Glass Company, located in Paden City, West Virginia.
The students are competing for three regional awards: Outstanding Creativity, Best Manufacturing Message, and the Viewer's Choice. Visit https://www.exploremfgwv.com/2023-northern-region-video-contest to view the Moundsville Middle School video and cast your vote in the Viewer's Choice Contest. Voting closes on March 26th at midnight.
The Moundsville Middle School team: Owen Berisford, David Durig III, Adam Evans, Lillie Goddard, Hailey Hill, Lexi Landis, Irelyn Lowe, Elin McGuire, Fiona Ren, Brayden Slaughter, Lorelei Williams, Sadi Willis, and Kaelyn Wyatt.
"In the smallest of businesses comes inspiration, innovation and industriousness," commented Kimberly Ghaphery, faculty team advisor. "Manufacturing reminds us that it will always take a person to operate a machine. What better way to teach our children how to make a mark on the world!"
The Paul Wissmach support team includes Jeremiah Farrell, Dan Lynch, and Jason Wilburn.
"Today's middle school students will be tomorrow's workforce in manufacturing in West Virginia," said Program Director Monica Cross, who oversees the Explore the New Manufacturing program on behalf of the West Virginia Manufacturers Association Educational Fund's efforts to create student awareness and excitement about careers in manufacturing and the training opportunities for these positions in their local areas. "We are excited to share Moundsville Middle School's video with you. The team did an excellent job, and their results illustrate the use of creativity, problem-solving, communication, and teamwork."